RCC Library Announces Digitalization of Mel King Collection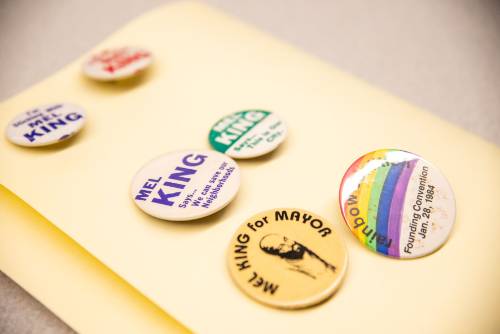 Thanks to a generous donation from the Laura and Barry Korobkin Fund, RCC's Library will begin the process of digitizing an extensive collection of Mr. Melvin (Mel) King's records throughout the fall 2022 semester.
Widely considered one of the founders of RCC, Mr. King is a politician, community organizer, and educator who served as the state representative for the 9th Suffolk District from 1973 – 1982. A leader in the neighborhoods and politics of Boston for over sixty-five years, Mr. King is responsible for creating community programs and institutions for low-income and BIPOC Boston residents. The founder of the South End Technology Center, Mr. King was the first African-American to run in a final election bid for mayor of Boston, in 1983.
In 2005, Mr. King generously donated materials from his 1983 mayoral campaign to the RCC Library. The collection comprises over 4,000 documents and items relating to Mel King's mayoral campaign of 1983, and to a lesser extent, his US Congress Campaign of 1986. Included from the mayoral run are campaign schedules, correspondence, newspaper clippings, event programs, campaign buttons, posters, and a T-shirt. Newspaper clippings and correspondence document the US Congress campaign. Also included is a flyer from his first campaign for State Rep in 1972. Along with the papers and posters, this collection also has binders of newspaper clippings.
This special collection is of great historical value relating to Mr. King and to Boston's political history. The collection is comprised of only print material and has limited access to the material. The RCC library will digitize the collection to allow greater access to these important documents. Once digitized, the collection can be accessed online by anyone in the community. Community researchers and those looking for information can use this material without immediate barriers. Faculty and students will benefit from being able to access these items and engage in discussions about this time and place in Boston. Digitization also allows the library to preserve Mr. King's papers in a digital format so his story can be told throughout the ages.
Interim President Jackie Jenkins-Scott and her leadership team are working with Mr. King and his family to plan an in-person kick-off event to launch the digitalization efforts. The event details will be posted on the RCC website, soon.
Click here to read Interim President Jenkins-Scott's letter to Mr. King.
For more information about this project, please contact Library Director Bill Hoag at whoag@rcc.mass.edu or 857-701-1386.